Regular price
Sale price
$369.00
Unit price
per
Sale
Sold out
Rated at 150 lbs. Not for towing. Comes with all hardware and shims necessary for installation.  Please read instructions before asking questions, but don't hesitate to contact me.

About to order your hitch? 
Wait!
First, let's verify that your frame is suitable for a hitch: 
These hitches fit onto Casita frames that use 3" C-Channel as the main structural runners. They are not compatible with frames manufactured in the late 1980's that use 2 pieces of box tubing in the rear.
Next, let's make sure that you know which version of the hitch that you need: Casita frames vary in width from 45 13/16" to 46 9/16" so I make two versions of the hitch. Please use the following form to determine which size hitch will fit your Casita.  Note, this form does not choose the size on this order page, you have to choose it yourself.  The default choice is a wide hitch.  : https://forms.gle/EF6s7TxUbJWi8Ubi7 
I typically ship on Fridays.  If you need your hitch sooner, please contact me first. I'm a one man operation, so it doesn't make economic sense for me to ship everyday.
Questions on how it installs?  Dimensions?  What comes with the hitch? Please click this link:  Installation Instructions
Share
View full details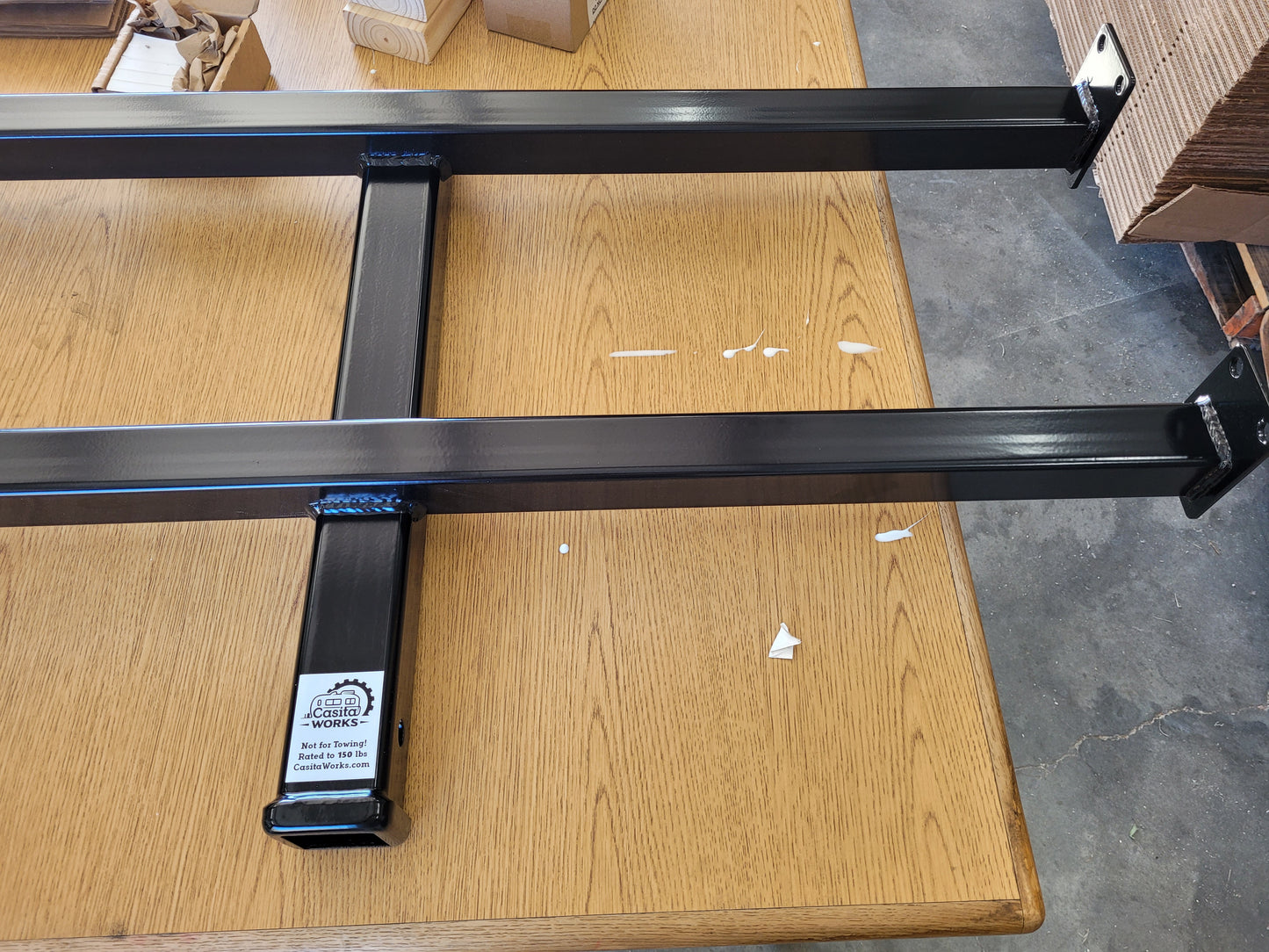 About Casita Works
Howdy!
I established Casita Works in 2020 to provide quality rear receiver hitches to owners of Casita travel trailers. However, my story really begins years ago.  
I've never been able to "leave well enough alone." This became really evident during my college years when I got into "rock crawling" and joined the Texas A&M Off-Road Club. We literally modified every part of our vehicles to make them more capable. We would go on a trip, break things, come back, and make them even better.
How does this relate to Casitas? Well, I can't leave our poor Casita alone either!  When I discovered a rotten floor, I replaced it with a plastic honeycomb extrusion and then built a new custom 2"x4" galvanized frame lengthened on the front and rear. This experience led me to start modifying and customizing even more Casitas.  
When I first started Casita Works, I expected that I might sell some hitches, but the endless support and generosity encountered in this community took me by surprise. Over the last two years my company has grown to offer a variety of services in addition to hitches, including front and rear stabilizers, plumbing repairs, and Stromberg installs.
As a member of the Casita Family, I hope to deliver the same quality that Casita owners expect through my custom products and services.
Owning a Casita is more than a choice – it's a lifestyle!
Doug Krebs
Owner - Casita Works